Quality Aggregates for the Dedicated Hobbyist
Thank you for visiting Small World Slate & Stone! We supply "Small World" hobbyists and artists with quality stone, gravel and sand. Our products can be found in aquariums, bonsai, miniature gardens, terrain basing, stone art, carving and much more! All of our products are 100% natural. They are hand washed, sorted and packaged with quality and consistency in mind.
Please look around our website and feel free to contact us with any questions.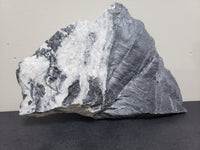 Choose your stone
Do you need a specific size slate/quartz stone or need a custom order. Contact us and let us know what you need....size range, color, etc. We will dig through our products and send you images of what we have that fit the description of what you're looking for.
These stones are sold by the pound and are not included in the free shipping offer.
Email us